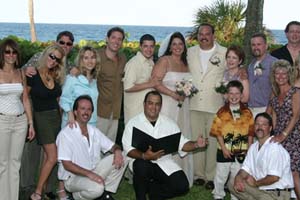 Finding the right person to marry you is a very important decision – after all, this person will have a huge influence on the quality of your ceremony. Your wedding ceremony should reflect the values of your relationship. So whether you choose to have one of your own making, or a religious, traditional, or civil ceremony, I promise to bring a refreshing, unique, quality and spirituality.

Your wedding vows should reflect the way you feel about each other. Writing your own is a beautiful way to strengthen and show your unity. Not sure on what to say?

Click here to Personalize Your Vows

Click here for Your Guide to Wedding Vows

If you prefer traditional vows, that's fine too.

Whatever you decide, it is Your special day, Your way! And as your Celebrant, it would be nothing short of an honor!

Contact me...